The UK Stroke Assembly (UKSA) brings together people affected by stroke to share both their hopes and concerns in a UK wide forum.  The annual event brings together stroke survivors, carers and their families and gives them a voice to have their say on the issues that affect them. 
The research workshops held at UKSA are an opportunity to engage with leading experts in the field of stroke research, to share experiences, and hear about the latest developments.
At this week's UK Assembly North event in Nottingham, we heard from two eminent figures from the stroke research community.
Fatigue after stroke: what research tells us
Avril Drummond, Professor of Healthcare Research at the University of Nottingham.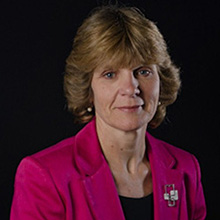 Professor Drummond spoke to us about what is currently known and not known about fatigue after stroke, and the latest research, including the NotFAST study, which she leads on.
Fatigue, defined as 'a lack of energy, weariness and aversion to effort', is a common problem after stroke. It significantly impacts people's daily lives and is reported to be one of the most distressing symptoms experienced by stroke survivors. Fatigue after stroke has been linked with depression but no other causes have been identified, making it difficult to find appropriate treatments.
The NotFAST study is looking at stroke survivors who have fatigue but not depression. Funded by the Stroke Association, the study aims to identify factors independently associated with fatigue after stroke to help doctors find the best ways to treat and manage the condition.
The Stroke Association is also funding research at University College London. The researchers are investigating brain mechanisms that could be involved in developing fatigue after stroke. 
Stroke and dementia: what research tells us
Professor Joanna Wardlaw CBE, Chair of Applied Neuroimaging and Head of Neuroimaging Sciences University of Edinburgh
Professor Wardlaw spoke to us about the important and overlooked connection between stroke and 'vascular dementia' and what the future may hold through combined research into these two devastating, and deeply related conditions.
Dementia is the loss of mental ability due to the gradual death of brain cells. Vascular dementia is the second most common type of dementia and is estimated to account for about 20% of all cases of dementia, which itself affects around 850,000 people in the UK.
Its development is attributed to a lack of blood supply to the brain, which is generally caused by cerebral small vessel disease (SVD) - a narrowing and hardening of the blood vessels to the brain, which leads to changes deep in the brain, including tiny strokes.
Earlier this year, Professor Wardlaw also delivered the prestigious Stroke Association Keynote Lecture 2016. Her lecture was entitled 'One small vessel stroke? One giant problem for humankind', which also explored the relationship between stroke and dementia, and how we came to find out more about their connection.
You can find out more about the Keynote Lecture 2016, with the full video of the lecture available below and on our youtube channel.

We are also delighted to say that the Stroke Association is now calling for research proposals to our Vascular Dementia Priority Programme Award, a new collaborative initiative (with Alzheimer's Society and the British Heart Foundation) to fund research into this area of unmet need.